In an effort to host more races at the Bridgeport Speedway a  1/4-mile speedway was built inside of the 5/8 mile oval. Originally on the backstretch of the 5/8-mile speedway, the new 1/4-mile, now located on the front side of the speedway, allows fans a more up close and personal racing atmosphere. Like its bigger brother the 1/4-mile provides three and four wide racing action in all divisions.
For years the all new "Spirit Auto Center Speedway" was known as the "Bridgeport 1/4 mile" or "the small track at Bridgeport."  We are happy to announce that the 1/4 mile track has partnered with Spirit Auto Center for the next three years to present to the fans, drivers, and race teams the all new Spirit Auto Center Speedway.
It is our desire that the re-branding efforts of the 1/4 mile track will bring Spirit Auto Center to the forefront as a major sponsor for the 1/4 mile track and that we will now have a completely new platform to build and promote the 1/4 mile speedway on.
Since 1991, Spirit Chrysler Dodge Jeep and Ram has been serving South Jersey and the Philadelphia area. Our dealership is family owned and operated and is now in it's second generation of ownership. We strive to create a fun, relaxed car buying experience for all of our customers. Our family atmosphere and friendly staff are just part of the reason why our customers keep coming back to us.
A word about our stadium sponsor:
At Spirit Chrysler Dodge Jeep, we offer new cars, trucks, and SUVs, along with used cars in Swedesboro by top manufacturers. Our sales staff will help you find that new or used car that you have been searching for. From our full line of new 4×4 Rams and Jeeps to new family vehicles like the Chrysler Town and Country and Dodge Journey to our used luxary line of cars and SUV's, we have the vehicle you're looking for!

Parking

Parking at the Speedway is free of charge. Handicap Parking spaces exist on the front rows of the main parking lot and in the pit area for participants. These spaces, like most public parking areas, are for handicap individuals ONLY and are available on a first-come, first served basis.
Access to these areas requires a certified handicap placard that is displayed prominently on the vehicle for inspection, and must be assigned to one of the occupants of the vehicle being parked.
Once all marked spaces have been filled, handicap patrons will be allowed to park anywhere within the VIP parking area in space available. Security personnel assigned to monitor marked handicap parking areas will be issuing city citations to those found in violation.
Camping

The Spirit Auto Center Speedway has camping spaces available. They can be reserved by clicking the link below and filling out the form or by contacting the speedway office at (856) 467- 4407.
---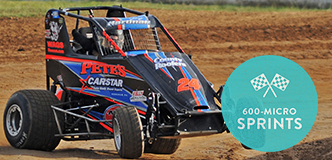 These cars have a 600cc motorcycle engine that can be bored out to 636. These cars are modeled after Sprint cars and are run on the ¼ mile track on Friday nights weekly.
These cars are powered by 250cc motorcycle engines that are bored out to 270 and they are also modeled after Sprint cars and are run on the ¼ mile track on Friday nights weekly.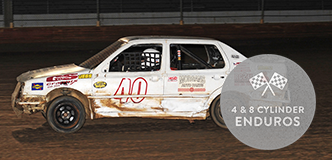 Stock front or rear wheel drive cars off the road with safety features.  These are the smallest cars we have that often put on the best show of the night.  These cars are run on the ¼ mile track on Friday nights weekly.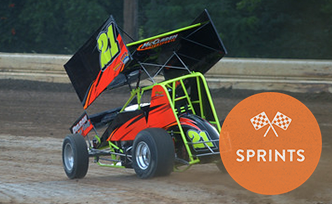 Sprint cars spend most of their time scrambling for traction, broad sliding around corners, wheelstanding on the straight aways, and throwing clay into the stands while the driver wrestles frantically with the steering wheel as he reaches speeds upwards of 140 mph.  900 horsepower is commonplace for these machines which typically have a 410, 360, or 305 cubic inch engines all fueled by methanol.  These cars run on the ⅝ mile track on different dates throughout the season.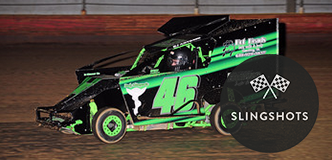 These scaled down mini modified race cars feature an alcohol burning, Briggs & Stratton V-twin power plant.  These race cars are capable of speeds over 80 mph and are designed for 1/8 mile to 1/4 mile speedways.  Many racing super stars have cut their teethe in the Slingshots division.