SMITH & HENDERSHOT ARE FIRST WINNERS IN SKYSCRAPER MICRO SPRINT SPECTACULAR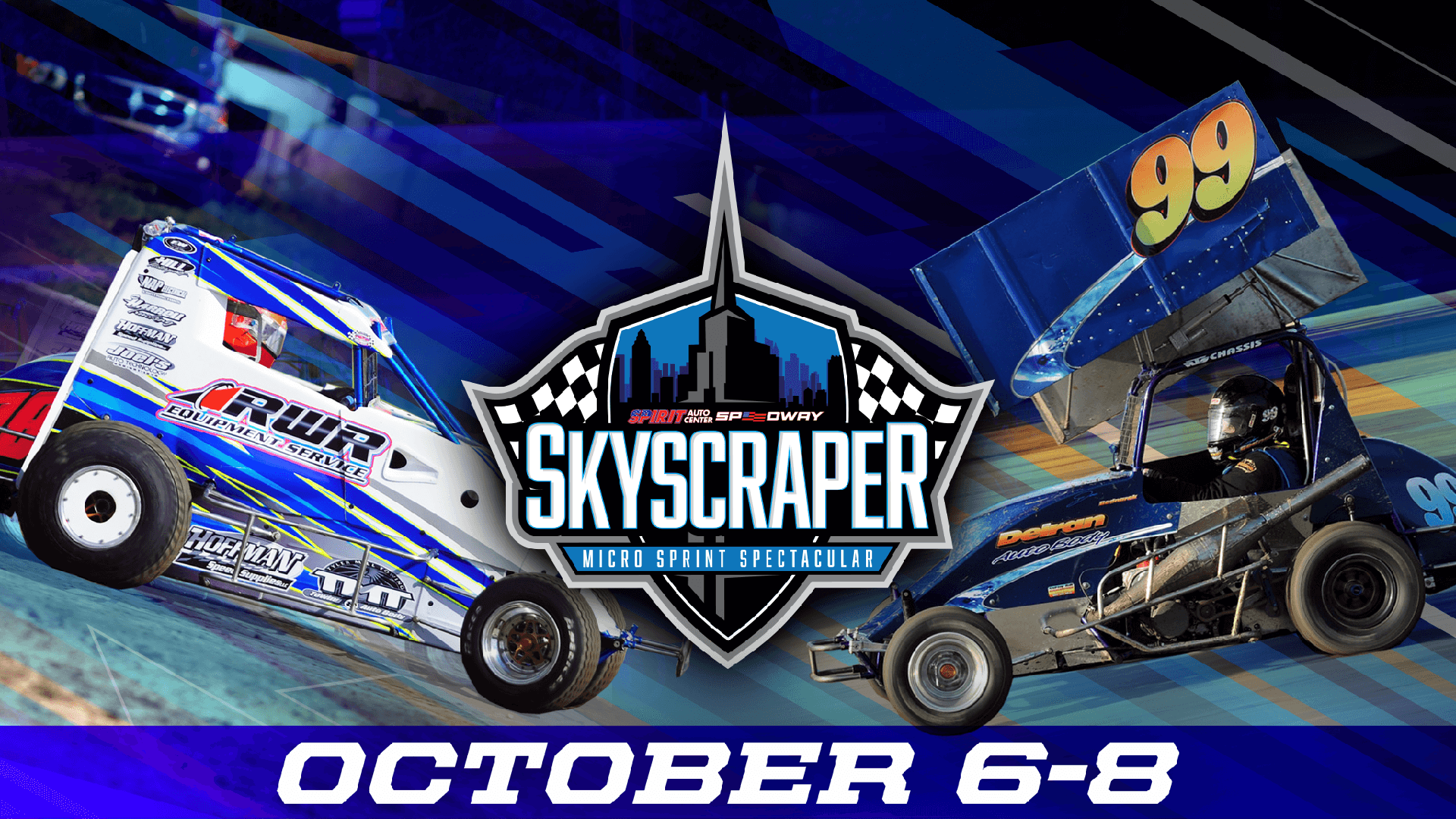 The checkered flags waved on the first ever Skyscraper Micro Sprint Spectacular at the Spirit Auto Center Speedway as Matt Smith and Jacob Hendershot raced to victories in the $4,000 to win 600 and 270 Micro Sprint feature events.
More than one hundred competitors competed for starting spots in the two feature events held on Sunday.  The weekend started with a night of practice and timed hot lap sessions on Friday followed by a double round of qualifying heat races on Saturday.  Fourteen starting positions were determined by the end of the day Saturday with the remaining spots filled by another round of heat and consolation races on Sunday.  Two drivers were added to each feature as the result of a special luck of the draw.
Matt Smith led from the green flag to the checkered but had to hold off a very persistent Whitey Kidd in the process to capture the $4,000 victory in the 600 Micro Sprint forty lap feature event.  As the laps counted down, Kidd became more of a threat.  Lapped traffic was Kidd's greatest friend as Smith battled a "too tight" race car throughout the race.  Kidd and Tommy Kunsman closed in on Smith with Kidd holding the advantage before a caution flag waved on lap thirty-four before the leaders could complete the lap.  Smith went back in front for the restart and led the remaining seven laps to the finish, using the outside line to pull ahead of Kidd who tried the inside line several times as the leaders raced through the corners.
It was the fourth win of the season for Smith, the Spirit 2017 Champion and his biggest pay day to date.  Smith shared the win with his dad, Gene and his sponsors as well as Randy West, EMI and Frank Galusha from Stallard Chassis.
Smith took the checkered flag over Kidd, Kunsman, Tim Buckwalter and Travis Hill who raced from the back of the pack after being involved in a lap sixteen restart incident.  Brian Carber, Mike Linderman, Mike Rutherford, Kyle Spence and Garret Bard raced behind the leaders, completing the top ten at the finish line.
Jacob Hendershot was the wire-to-wire victor in the thirty lap 270 Micro Sprint feature, picking up his first Spirit win of the season and the $4,000 pay day.  Hendershot, although not a regular contender at Spirit Auto Center Speedway, has accumulated eight wins on the quarter mile, mostly in Poker Series competition.
After winning both of his qualifiers on Saturday, Hendershot drew the pole for the start of Sunday's main event.  Hendershot outgunned Alex Swift on the start and then held off challenges from Tommy Kunsman and Chris Locuson to capture the win.  Hendershot's biggest challenge came late in the thirty lap event as the leaders raced through lapped traffic.  Both Locuson and Kunsman closed in on the leader in traffic.  Contact was made between Hendershot and Locuson, causing Locuson to lose several positions before he was able to regain control.  Everyone continued with Hendershot racing to the flag for the win over Kunsman, Locuson, Pat Bealer and Mike Rutherford.  Swift, Nick Skias, Tyler Reinhardt, Robbie Watson and Ross Perchak rounded out the top ten at the finish line.
"This is the most nervous I've ever been," Hendershot related after the win, referring to his pole position start and the big pay day at the end of thirty laps.  "I didn't know who was there," Hendershot said of the late race contact.  "I didn't know if it was lapped cars or who it was.  I do want to apologize to him if he can hear me."  But no apology was necessary since Locuson understood all too well what was on the line.
The inaugural event was a success and is sure to be added to the schedule in years to come.  Bridgeport's Marketing Manager, Kolby Ramey said, "The inaugural Skyscraper event was an astounding success.  We can't thank General Manager, Danny Serrano, enough for his hard work and dedication to Spirit Auto Center Speedway and the sport of Micro Sprint Racing.  This event was his brainchild and he put it together from start to finish."  Ramey went on to extend his thanks to all of the drivers and car owners who supported the event.  Plans are already underway for next year's event as the speedway prepares for the Bill Thomas Memorial Weekend at the end of the month.
It was a great weekend of racing.  With each driver having no less than six opportunities to qualify for the A Mains, the talent that was spread throughout the field was something to see.  There were great performances by veterans and rookies alike.  Perhaps Tommy Kunsman expressed it best after finishing third in the 600 feature and then second in the 270 main event.  "They need to add another division," Kunsman said.  "I have a second and a third – I need another race for a win!"
600CC MICRO SPRINT FEATUE (40 laps): 1. Matt Smith, 2. Whitey Kidd III, 3. Tommy Kunsman, 4. Tim Buckwalter, 5. Travis Hill, 6. Brian Carber, 7. Mike Linderman, 8. Mike Rutherford, 9. Kyle Spence, 10. Garrett Bard, 11. Steve Bracall, 12. Bobby Butler, 13. Jon Keller, 14. Nick Havens, 15. Danny Buccafusca, 16. Jeff Hartman, 17. Gary Bozowski, 18. Austin Quick, 19. Eddie Strada, 20. P.J. Willon Maiams, 21. Dave Damaio, 22. Tyler DeVault, 23. Luke Thomas, 24. Alex Bright, 25. Josh Conover, 26. Jared Lilly, 27. Lee Nardelli, 28. James Morris, 29. Robert Hocker, 30. Jim Radney, DNQ – Damon Paul, Kyle Lick, Corey Andersen, Steve Kemery, Zach Bealer, Tyler Ulrich, Andrew Layser, Bradley Brown, Billy Calvert, Jesse Bartleson, Doug Snyder, Billy Pauch, Jr., Geordon Marrero, Jermain Godshall, Jacob Severin, Nathan Smith, Jim Tippin, Justin Murphy, Nick Walton, Tyler Lindsey, Tyler Kehs, Drew Richmond, Ryan Quakenbush, Joe Plunkett, Jake Roberts, Jason Muldowney, Rebecca LaMothe, Neal Williams, Nash Ely
270CC MICRO SPRINT FEATURE (30 laps): 1. Jacob Hendershot, 2. Tommy Kunsman, 3. Chris Locuson, 4. Pat Bealer, 5. Mike Rutherford, 6. Alex Swift, 7. Nick Skias, 8. Tyler Reinhardt, 9. Robbie Watson, 10. Ross Perchak, 11. Billy Gray, 12. Dan Lane, 13. Randy West, 14. Eddie Strada, 15. Toby Blumenshine, 16. Devin Adams, 17. Colin Bustard, 18. Brandon Edgar, 19. Kyle Weiss, 20. Ken Andreas, 21. Billy Murphy, 22. Ben Stoltz, 23. Joe Dopke, 24. Ryan Heim, 25. Logan Diehl, 26. Jay Hartman, 27. Nick Walton, 28. Glenn Macomber, 29. Bradley Brown, DNQ – Larry George, Jenn Avery, Kerry Lensle, Bob Bogart, Marco Michetti, Ed Tyres, David Fink, Jonathan John, Tom Landwher, John Wagner, Jr., Steve Coslop, Ron Ford
Upcoming events
Weekend of October 27, 28, 29 – Bill Thomas Memorial weekend, Friday night practice, Saturday – winged 600s, 270s and Excel 600 Mods, Sunday – Poker Series Hand #5 – wingless 270s, 600s and Slingshots.